What Is the Entourage Effect with Marijuana
Marijuana, or also known with its medical term as cannabis, has turned out to become a controversial topic these days. The cannabis industry itself has been blazing us with some buzz words and unfamiliar terms so far. Meanwhile, the marketplace is filling up with newcomers seeking to differentiate their products from other competitors as study show. The combination of these facts has triggered the birth of some terms, such as "terpenes" and "cold press" being thrown around. The latest term that most of us commonly hear today might be "the entourage effect." Now let's discuss what marijuana doctors say about the entourage effect with marijuana.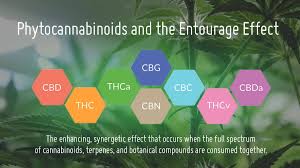 What Is the Entourage Effect?
Medical marijuana is contained of multiple components comprising cannabinoids and terpenes. Several researchers have distinguished a noteworthy difference from how these components act separately and what will happen when they are united. This is what actually denoted as the entourage effect.
Most people that aware of the marijuana plant will also acknowledge about THC, CBD, and terpenes. On the other hand, they might be unfamiliar that more than 400 chemicals exist in the plant itself. Some of those chemicals appear to have a slight to no effect on the endocannabinoid scheme when used separately.
In contrast, when combined with other plant components, the constituents that work together can have a significant effect on the way the receptors and systems interrelate one another.  Unlike synergy, those chemicals that are collected as a team and produce the entourage effect might have a slight impact on cannabinoid receptors.
Some medical marijuana doctors explain the entourage effect with easy words like; Cannabidiol (CBD) and tetrahydrocannabinol (THC) are two of the further well-researched and prevalent phytocannabinoids. Many people have been taking CBD and THC in various ways, and these constituents can be consumed, whether separately or combined.
Conversely, some research advises taking them together as the combination is said to be more effective than taking CBD or THC alone yet cannabis sativa remains the one leading the way.. The main reason is that the collaboration between phytocannabinoids and terpenes can create "the entourage effect."
Let's put it simply, the theory is that by combining two or more cannabis compounds, you can create a different physical or psychological effect than what a single mixture can do on its own.
Is There Any Evidence of Entourage Effect?
Creating statements about the entourage effect is one thing, but all of us recognize that there is no single thing in the medical or scientific world will be valid until it's approved by research.
Nevertheless, even though there have not been many studies conducted on this topic, some of the executed ones have presented the quality evidence approving the "entourage effect" is, indeed,  a real thing.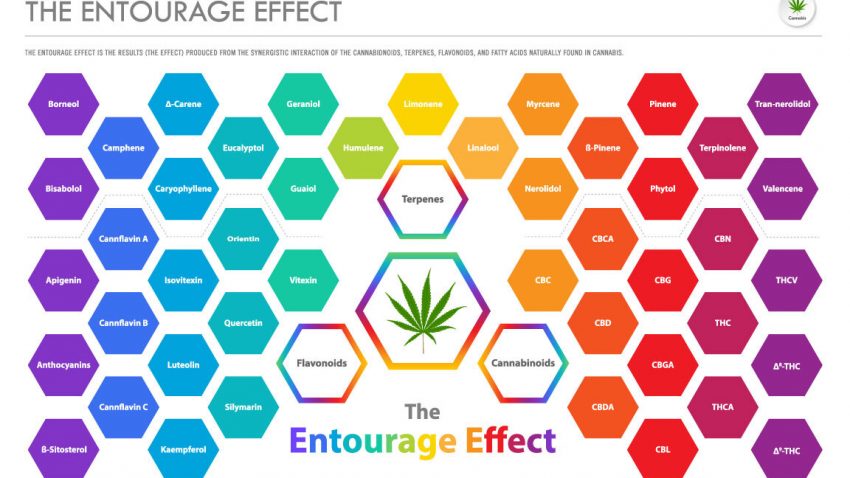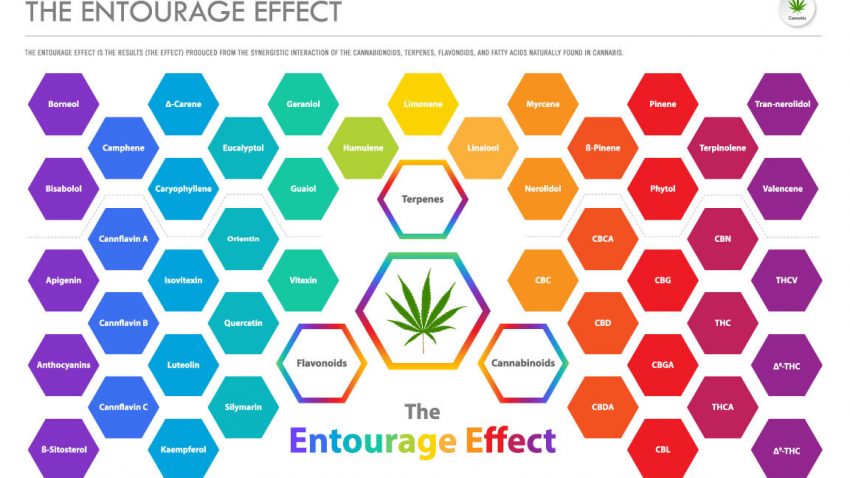 Another valid research established in 1981 has provided some of the initial evidence that sanctioning the presence of this entourage effect. The study has demonstrated that the entire plant extracts derived from the cannabis plant can generate 330 percent more activity than what THC can produce alone. The researchers of this study then formulated a theory that the cannabis plant might have both "inhibitor" and "synergist" compounds.
Another research that performed in 2011 surveyed 953 persons who have asked questions about their marijuana-based medications and their medical marijuana practices. A substantial amount of them, which is around 98 percent, were reported to have preference completely-natural medical marijuana through marijuana-based medications such as Marinol.
In addition to this, most of the medical patients who have used both "synthetic weed" drugs and the original thing have witnessed that 'regular' marijuana is claimed to be a lot more effective and creates far fewer side effects.
Does Entourage Effect Offer Some Benefits?
By understanding that the extra constituents contained inside the marijuana plant can work together would primarily benefit the marijuana society. For instance, terpenes are the constituents that provide cannabis its original taste and scent.
However, apart from this somewhat shallow restraint, terpenes also appear to have the capability of modifying the way in which cannabinoids fix to their corresponding receptors. Hence, it can alter the way where cannabinoids take consequence internally.
In this way, terpenes are eventually functioning along with cannabinoids in combined energy to stimulate a number of medically-beneficial impacts. Terpenes contained several healing assets, such as:
Decreasing inflammation

Improving calm

Great pain reliever

Reducing depression and anxiety
On the other hand, terpenes can turn out to be more effective when combined with cannabinoids because they essentially modify the function of the existing-beneficial cannabinoids. Hence, the effects can be different and even more than expected.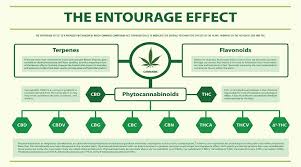 Wrapping Up
Let's take a simple example; if you drink a glass of apple juice, you would surely get a different effect as if you are eating an apple. Taking a glass of apple juice will allow all the chemicals confined in each part to be able to interact with one another and deliver more health benefits than any part of the apple might offer you on its own. Similarly, marijuana is a multifaceted plant that we are just starting to understand.
However, one point that has become more ostensible is that using the entire plant will offer more advantages. These advantages are the ones that you cannot get from their separate components.
Medical Marijuana Doctor Card Evaluations are available at Al Natural MD. We have offices for medical marijuana treatment in Lakeland, Orlando, Sarasota, Bradenton, Lake Mary, Tampa and Brandon. Call (800) 250-6737 for an appointment.
In this article, you will study about the endocannabinoid system as more and more researchers will find out more about the entourage effect and its ability to influence our body systems throughout time. This will ultimately help us to reach and preserve optimum health and wellness. If you need further detailed information, talking to a medical marijuana doctor will help you get a better understanding of which constituents and methods work best according to your situation. Contact All Natural MD today for more information on medical marijuana in Florida.
ALL NATURAL MD - FLORIDA MEDICAL MARIJUANA DOCTORS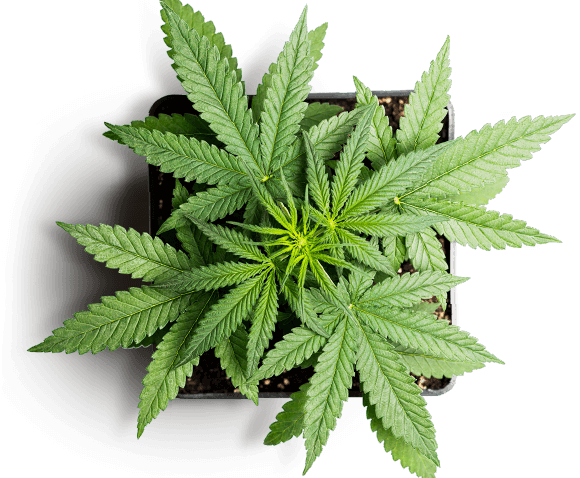 Error: Contact form not found.